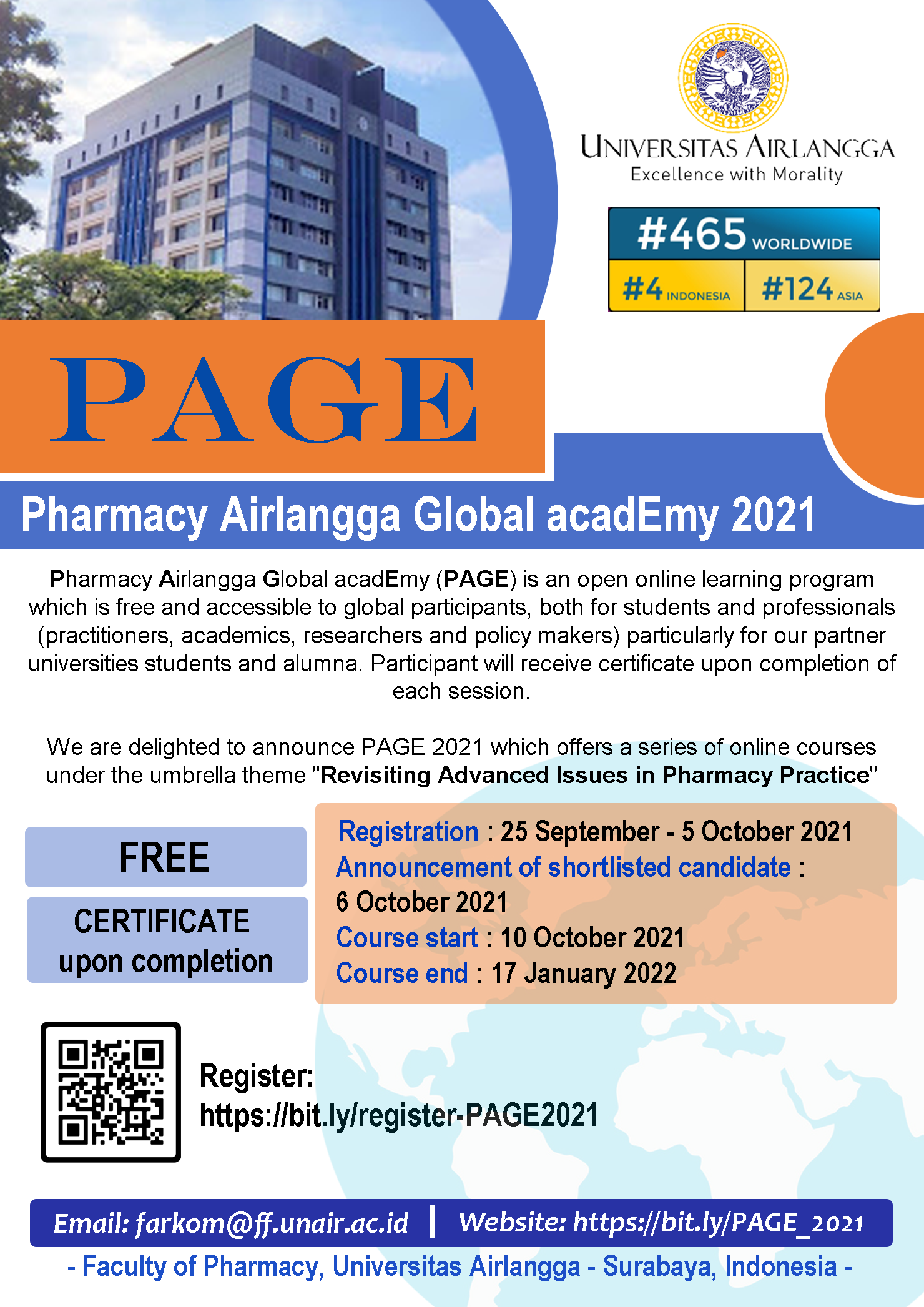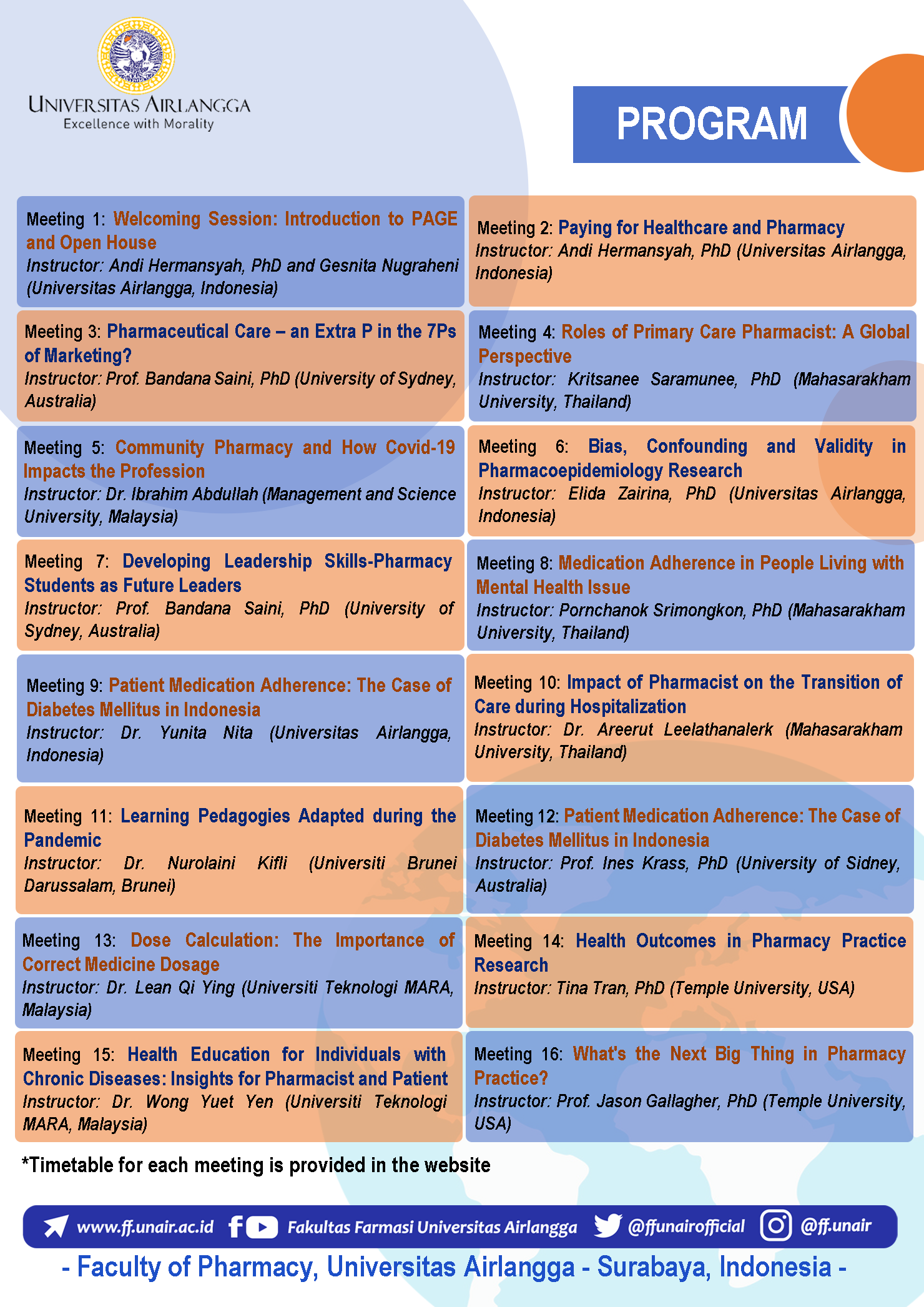 PAGE (Pharmacy Airlangga Global acadEmy
Pharmacy Airlangga Global AcadEmy (PAGE) is an open online learning program which is free and accessible to global participants, both for students and professionals (practitioners, academics, researchers and policy makers) particularly for our partner universities students and alumna. Participant will receive certificate upon completion of each session.
PAGE is designed as an online course involving talks and lectures, discussion, case studies, assignments, and presentations. This year, PAGE 2021 offers a series of online courses under the umbrella theme "Revisiting Advanced Issues in Pharmacy Practice"
The program will cover a mix of unique topics related to advanced pharmacy practice issues such as pharmacy education, pharmacoepidemiology, pharmacoeconomy, social behavioral and administrative pharmacy, pharmacovigilance, and others. Each meeting is structured independently (non-sequential) to offer a broad understanding about pharmacy practice.
THE INTENDED AUDIENCE
The intended audience for the PAGE is students, practitioners, academics, executives, and key policy makers at national, regional, and global levels who wish to refresh and unravel various advanced issues in pharmacy practice. The audience is expected to be a blend of student and non-student with the dominant proportion.
ELIGIBILITY
Participants should be able to operate basic computer skills such as using the internet, locating references, email, and creating MS office documents, i.e., MS Word, Excel, and PowerPoint, for instructional or administrative purposes. Participants are also encouraged to adapt to ZOOM as the main platform for the online meeting.
Student applicants must enclose the following documents upon registration:
1. Student ID – it is preferable for undergraduate or graduate student in pharmacy degree
2. Academic transcript – mandatory for all students
3. Passport – mandatory for international students
4. Letter of support / recommendation / permission from the school/faculty - optional
Non-student applicants must enclose the following documents upon registration:
1. Identity card – KTP for the domestic participant or passport for international participant
2. Academic transcript – optional
3. Letter of support/recommendation/permission from the manager or head of the office – optional for all non-student applicant
4. One-short page of motivation letter explaining why they choose the program and how the program will benefit them - optional
Shortlisted candidates will be contacted and receive a Letter of Acceptance (LoA) supplemented with a course package. Other potential candidates will substitute the candidate who withdraws from the program.
EVALUATION
Participants will receive a certificate of completion based on the number of courses that they attend. Participants must fill out a presence list upon attendance. Participants may provide feedback at the end of the program.
RESOURCES
The intent of the learning environment in PAGE is Student-Centered Learning. The course material and references will be delivered via email or other communication platforms. The course can be accessed from any place that offers internet.
FUNDING
Universitas Airlangga entirely funds this program. Participants are not charged for participating in the program.
PARTNER UNIVERSITIES
1. School of Pharmacy, the University of Sydney Australia
2. School of Pharmacy, Temple University the United States of America
3. Faculty of Health Sciences, Universiti Brunei Darussalam Brunei
4. Faculty of Pharmacy, Mahasarakham University Thailand
5. Faculty of Pharmacy, Universiti Teknologi MARA Malaysia
6. Faculty of Pharmacy, Management and Science University Malaysia
Other universities and institutions/offices are welcome to attend the program without a cost.
SCHEDULE
Enrollment open : 20 September 2021
Enrollment closed : 5 October 2021
Announcement of shortlisted candidate : 6 October 2021
Course start : 10 October 2021
Course end : 17 January 2022


Program*

(Please note that these are proposed meeting orders. They do not reflect the actual meeting order. Each instructor is free to pick up his/her schedule. Any conflicting schedule will be regulated subsequently)

Topic description

MEETING 1

Welcoming session: Introduction to PAGE and open house

Instructor: Andi Hermansyah, PhD and Gesnita Nugraheni

Proposed time: 10 October 2021, 8 AM (GMT+7)

Duration: 100 minutes

Participants will learn details about PAGE, the faculty profile, and the evaluation of the program. Participants will receive a link for the meeting along with the welcome package and Letter of Acceptance

MEETING 2

Paying for healthcare and pharmacy

Instructor: Andi Hermansyah, PhD

Universitas Airlangga

Proposed time: 18 October 2021, 1 PM (GMT+7)

Duration: 100 minutes

For decades, community pharmacists have been seeking new models of compensation for clinical services, especially as the training they receive has shifted towards a focus on patient care, and in-depth clinical decision-making. In this meeting, participants will learn a number of models for paying pharmaceutical care, the rationale behind each model and how each model can be implemented in the particular community pharmacy setting.

MEETING 3

Pharmaceutical care – an extra P in the 7Ps of marketing?

Instructor: Prof. Bandana Saini, PhD
University of Sydney

Proposed time: 25 October 2021, 10 AM (GMT+7)

Duration: 100 minutes

To be available soon

MEETING 4

Roles of primary care pharmacist: a global perspective

Instructor: Kritsanee Saramunee, PhD

Mahasarakham University

Proposed time: 5 November 2021, 3 PM (GMT+7)

Duration: 50 minutes

Primary care pharmacists play an essential role in managing medicines for primary health care, and they work with other health professionals to promote optimal use of medicine. Roles of primary care pharmacists generally involve four components of the pharmaceutical management cycle: selection, procurement, distribution, and use. This topic will discuss the differences in primary care pharmacy between countries.

MEETING 5

Community pharmacy and how Covid-19 impacts the profession

Instructor: Dr. Ibrahim Abdullah

Management and Science University

Proposed time: 11 November 2021, 8 AM (GMT+7)

Duration: 100 minutes

To be available soon

MEETING 6

Bias, Confounding and Validity in Pharmacoepidemiology Research

Instructor: Elida Zairina, PhD

Universitas Airlangga

Proposed time: 26 November 2021, 9 AM (GMT+7)

Duration: 100 minutes

Bias can occur at any stage of the research process, including study design, data collection, data analysis and publication. In this lecture, we will learn about the definition and types of bias in pharmacoepidemiology research, confounding and how to control it, and a brief overview of validity, reliability, and generalizability.

MEETING 7

Developing Leadership Skills-pharmacy Students as Future Leader

Instructor: Prof. Bandana Saini, PhD
University of Sydney

Proposed time: 29 November 2021, 9 AM (GMT+7)

Duration: 100 minutes

To be available soon

MEETING 8

Medication adherence in people living with mental health issue

Instructor: Pornchanok Srimongkon, PhD

Mahasarakham University

Proposed time: 6 December 2021, 2 PM (GMT+7)

Duration: 50 minutes

Good medication adherence is crucial for successful treatment among patients with mental health illness. This course offers the concept of medication (non)adherence among people living with mental health issue, especially in people with unipolar depression. The accuration of adherence measurement and strategy to improve medication adherence among them will also be provided. Additionally, case study of medication (non)adherence in Australia and Thailand will be discussed.

MEETING 9

Patient medication adherence: The Case of Diabetes Mellitus in Indonesia

Instructor: Dr. Yunita Nita

Universitas Airlangga

Proposed time: 10 December 2021, 7 AM (GMT+7)

Duration: 100 minutes

In this course, students will learn about medication adherence, the epidemiology, types of medication adherence, how to detect medication adherence, how to improve adherence, consequences of non-adherence, factors influencing medication adherence, and learn the case of Diabetes Mellitus patients medication adherence in Indonesia

MEETING 10

Impact of Pharmacist on the Transition of Care during Hospitalization

Instructor: Dr. Areerut Leelathanalerk

Mahasarakham University

Proposed time: 10 December 2021, 10 AM (GMT+7)

Duration: 50 minutes

Well-managed transition of care can improve patient outcomes. Pharmacists play a crucial role in care transition, particularly during hospital discharge. This lesson will present the importance of transition-of-care, challenges during the transition-of-care, role and impact of pharmacists on the transition-of-care during hospitalization. Also, definition of care transitions will be discussed during the class.

MEETING 11

Learning pedagogies adapted during the pandemic

Instructor: Dr. Nurolaini Kifli

Universiti Brunei Darussalam

Proposed time: 15 December 2021, 10 AM (GMT+7)

Duration: 50 minutes

COVID-19 pandemic has led to substantial changes in pharmacy curricula, including face-to-face session such as Objective Structured Clinical Examination (OSCE). This session will share the redesign of clinical and communication pharmacy modules using MyDispense® to teach clinical and dispensing skill in the undergraduate pharmacy programme. The revised curriculum using virtual technology was implemented, and the feedback and outcomes were assessed. Faculty members comprising of pharmacy lecturers built the infrastructure, received training on the latest version of MyDispense® programme, developed learning units, and pilot tested the learning units.

Students had mixed opinions regarding their experience of using MyDispense® for web-based OSCE., Although majority of them agreed that they learned from this method of OSCE more than what they could have from the actual face-to-face OSCE. There is a great need to evaluate whether modified methods of OSCE compromise the pharmacy education standards.

MEETING 12

Development and Implementation of Professional Pharmacy Services: an Insight for Pharmacy Stakeholders

Instructor: Prof. Ines Krass, PhD

University of Sidney

Proposed time: 20 December 2021, 9 AM (GMT+7)

Duration: 100 minutes

to be available soon

MEETING 13

Dose Calculation: The Importance of Correct Medicine Dosage

Instructor: Dr. Lean Qi Ying

Universiti Teknologi MARA

Proposed time: 4 January 2022, 12 PM (GMT+7)

Duration: 100 minutes

The topic on drug dosage calculations has been essential for pharmacy students to master the numeracy and calculation skills on any medication dosage based on the available stock strength, concentration, and dosage forms. Correct drug-dose calculation prevents medication errors, which is a key element for patient safety. If dosages are wrong, the consequences are devastating

MEETING 14

Health outcomes in pharmacy practice research

Instructor: Tina Tran, PhD

Temple University

Proposed time: 10 January 2022, 8 PM (GMT+7)

Duration: 100 minutes

Designing and implementing innovative community-based health service delivery models are key in decentralizing care services, enhancing access to care and medications, and improving health outcomes for populations in resource-limited settings. In this lecture, we will discuss these concepts, using case examples to demonstrate how community-centered care programs, ranging from medication delivery service, mobile group-based care delivery, and supply chain infrastructure, can lead to positive impact on social and biological outcomes for resource-imited populations.

MEETING 15

Health education for individuals with chronic diseases: Insights for pharmacist and patient

Instructor: Dr. Wong Yuet Yen

Universiti Teknologi MARA

Proposed time: 12 January 2022, 10 AM (GMT+7)

Duration: 100 minutes

The global epidemiological transition entails a shift in illness pattern from acute infectious diseases to non-communicable diseases. The healthcare system warrants a change in its delivery to cater the increased demand of individuals suffering from chronic diseases. Health educational intervention is pivotal in empowering patients with the proper disease self-management skills. This topic will discuss the effectiveness of pharmacist-led interventions and highlight the roles of pharmacists and patients in disease self-management.

MEETING 16

What's the next big thing in pharmacy practice?

Instructor: Jason Gallagher, PhD

Temple University

Proposed time: 17 January 2022, 8 PM (GMT+7)

Duration: 100 minutes

To be available soon
Proceed with registration click https://bit.ly/register-PAGE2021
Any inquiries, please contact farkom@ff.unair.ac.id

Faculty of Pharmacy, Universitas Airlangga (UNAIR)
Surabaya - Indonesia
Phone (+6231) 5933150
Fax (+6231) 5935249
https://www.ff.unair.ac.id
Social media:
instagram: @ff.unair
twitter: @ffunairofficial
facebook: Fakultas Farmasi Universitas Airlangga