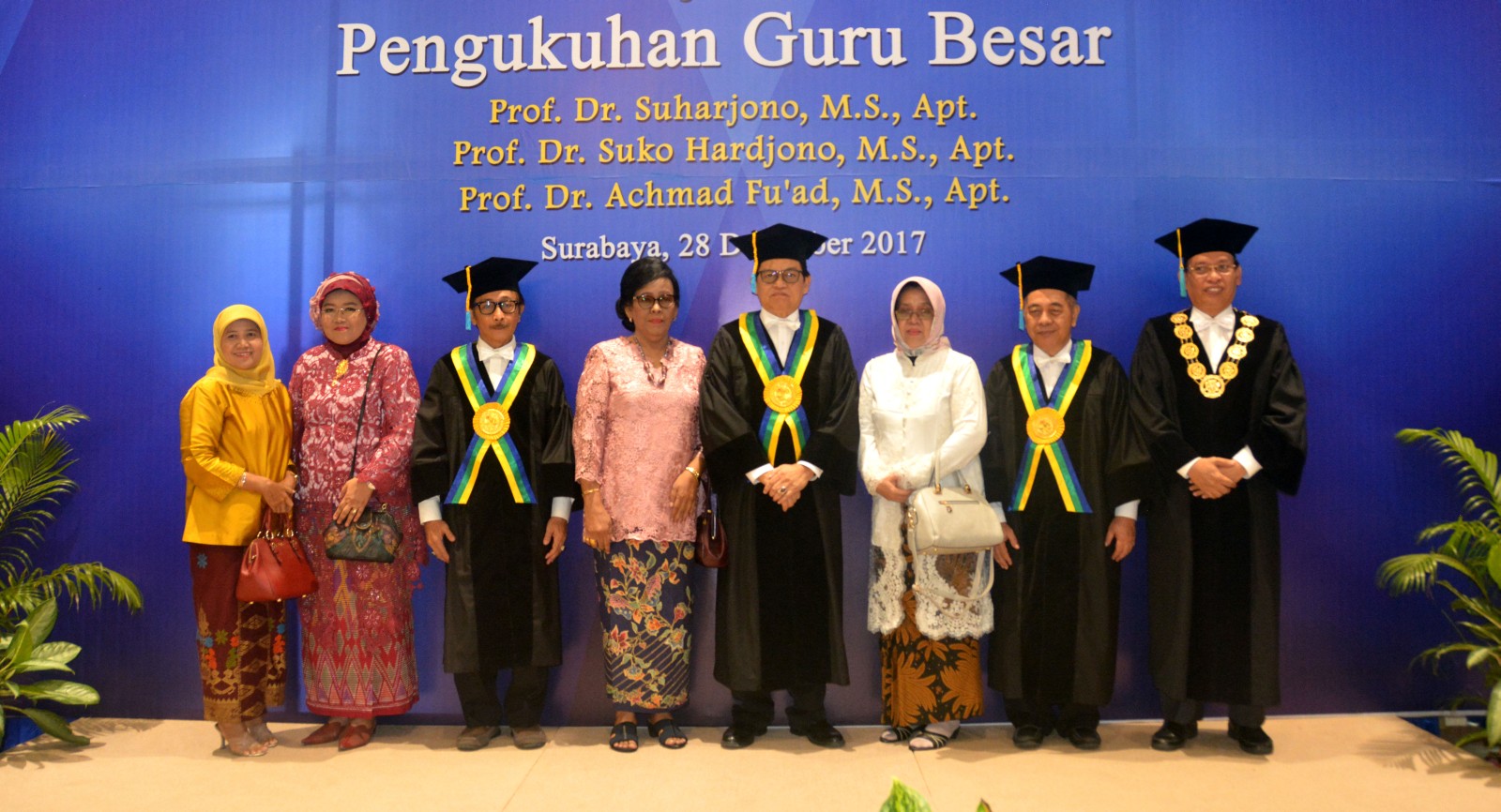 On 28 December 2017, 3 lecturers form the  Faculty of Pharmacy Universias Airlangga were inaugurated as Professors in a ceremony held at Aula Garuda Mukti, UNAIR Management Office. This is the first inauguration in which all 3 professors come from the Faculty of Pharmacy Universitas Airlangga. The three professors are:  Prof. Dr. Achmad Fuad., MS., Apt.,  Prof. Dr. Suko Hardjono, M.S., Apt.,  Prof. Dr. Suharjono, M.S., Apt. 
The ceremony was opened by UNAIR Choir, who presented the Hymnn of UNAIR and  Indonesia Raya, which is then continued with supplication delivered by  Dr. Abdul Rahem, M.Kes., Apt.
The event was then opened and the brief profiles of the new professors were read by the Rector of UNAIR, which was continued with the reading of brief profiles from the new professors.
The inauguration ceremony was then continued by scientific orations by the professors. Prof. Dr. Suharjono, M.S., Apt. raises the topic of polypharmacy sudies. Prof. Achmad Fuad, M.S., Apt. raises the topic of Indonesia as a country with megadiversity. The third oration by Prof. Dr. Suko Hardjono, M.S., Apt. discusses  medicinal chemistry and the relationship between drug compound chemical structure and activityin cancer drug research.
After the reading of scientific orations, the attendees together sang the song  Putra Airlangga Bangkit, followed by remarks from the Rector.
In his remarks, the Rector of Universitas Airlangga,  Prof. Dr. Mohammad Nasih, S.E., M.T. Ak., CMAsaid that the professor inauguration ceremony is very important academically and strategically, especially in terms of the achievement of UNAIR towards 500 best universities in the world. He also conveyed his wishes towards the new professors to become the spearhead of pharmacy innovations according to the vision and missions, and become a competitive advantage for Universitas Airlangga.
The Rector Underlines the interrelatedness of the three orations by the professors, namely the utilization of Indonesian megadiversity resources, which are researched and optimized with modifying chemical structure and applying it in therapy by taking into account the principles of polypharmacy. The Rector also reminded that the academic outputs should not stop on paper. Rather, they should be developed into real works.