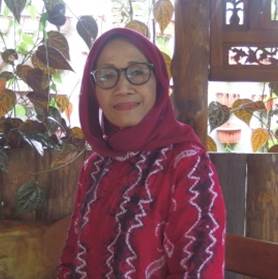 | | |
| --- | --- |
| Tahun | Jenjang Pendidikan |
| 1976 | Bachelor of Science, Dra., Department of Pharmaceutical Technology,  Faculty of Pharmacy, Universitas Airlangga, Indonesia |
| 1978 | Apothecary, Apt, Department of Pharmaceutics, Faculty of Pharmacy, Universitas Airlangga, Indonesia |
| 1987 | Magister Sains, Basic Medical Science,  MPhil,  School of Pharmacy, University of Airlangga |
| 2000 | Doctor, , PhD, Mathematic and Natural Science,  School of Pharmacy, University of Airlangga |
Courses
Pharmaceutical Botany, Pharmacognosy, Traditional Medicine, Phytotherapy, Aromatherapy
Research Interests
Alternative and Complementary Therapies for women's health
Aromatherapy
Indonesian and other Asia's traditional medicines (ethnomedicine)
Medicinal plants with antiosteoporosis property
Medicinal plants for skin care
Selected Publication
Mangestuti, Subehan, Aty Widyawaruyanti, Syed Faisal Haider Zaidi, Suresh Awale,  Traditional medicine of Madura Island in Indonesia,  Journal of Traditional Medicine; 2007;   24(3); 90-103.
Mangestuti Agil,Women's health and beauty care in Indonesian traditional medicine : empowerment through enablement ,  Annual Report of Institute of Natural Medicine, 2007, University of Toyama volume 34
Mangestuti Agil, Neny Purwitasari, Essential oil and Antimicrobial Activity of Essential oil from Ginger Rhizomes,  Jurnal Bahan Alam Indonesia; 2009 Vol 6 No.6, 213 – 216.
Mangestuti Agil, 2013, Herbal Medicine in Indonesian Culture: from Food to Cure, Asian Heritage Forum; 2013; Vol 1; 49-78.
Hening Laswati, , Mangestuti Agil, Retno Widowati, Efek Pemberian Spilanthes acmelladan Latihan Fisik Terhadap Jumlah Sel Osteoblas Femur Mencit yang  Diinduksi Deksametason, 2015,  Media Penelitian dan Pengembangan Kesehatan; 2015 ;25 ;43-50
Burhan Ma'arif, Mangestuti Agil, Hening Laswati, Phytochemical Assessment on n-Hexane Extract and Fractions of Marsilea crenataPresl. Leaves through GC-MS, Trad.Med. J.; 2016; Vol. 21 (2); 77-85.
Contact
Prof. Dr. Mangestuti Agil, MS., Apt.
Faculty of Pharmacy, Universitas Airlangga
Jl. Dharmawangsa Dalam Surabaya 60286
Ph.+62 31 5033710
Fax. +62 31 5020514
E-mail  mmangestuti@yahoo.com.
E-mail instansi mangestuti@ff.unair.ac.id