2017 is the first wave of start-up development, the first time Indonesian compaines attained unicorn status. The development of startup businesses in 2017 in general commodities, such as marketplace, transportation, and travel, has vastly grown into such areas as as healthcare, agriculture, and education in 2018. This is the manifestation of startup development in Indonesia. The Ministry of Research, Technology, and Higher Education (Ristekdikti) has stated its commitment in supporting the development of startup businesses through several empowerment efforts. The realization of this commitment is the  Inovator Inovasi Indonesia Expo (I3E), which has been held for the last 3 years, attended by participants of technology-based incubation program by the Ristekdikti Ministry. Through participation in I3E, it is expected that participants of the program become more ready and able to grow and win the competition, as well as becoming the source of new economic growth. The expo held on 25-28 October 2018 in Atrium Hall Jogja City Mall carried the theme of  Start Up: Optimism for the Nation. This event was attended by 300 startup companies who are participants of Potential Technology-Based Startup Enterpreneurs (CPPBT) and Technology-Based Startup Enterpreneurs (PPBT).
The participants of this expo came from PPBT and CPPBT year 2018.
Dr.  Idha Kusumawati S.Si. Apt. M.Si. , a lecturer at the  Department of Pharmacognosy and Phytochemistry Universitas Airlangga is an expo participant that has obtained funding through CPPBT through  No Pain , nanoetosomic app on kencur extract as an analgesic and spray for antiinflammation."
The product she developed is  No Pain, which is a topical preparation in the form of spary containing kencur ( Kaempferia galanga) rhizome extract as its active ingredient. Every preparation consists of nanoethosome of kencur extract containing ethyl-p-methoxy-cynamate (EPMS) of 30 mg/30 ml. The kencur rhizome extract works in inhibiting COX-2 and the use of nanoethosome system in the drug delivery system is able to deliver active compounds penetrate epidermic layer in a relatively short time. This product has 3 variants, namely hot, original, and cool. In the hot variant, red ginger extract was added, while for the cool variant methol extract was added. This preparation is an analgesic and anti-inflammatory drug that is expected to be usable for solving long-term pain in patients who suffer from health problems such as rheumatoid athritis, osteoarthritis, low back pain, trauma, sprain, and other health problems that need actions to solve pain and inflammation.
"The uniqueness of this product is in the utilization of natural ingredients as the main ingredient and the nanotechnology, so it is expected that the drug can work more effectively," said Idha. She hoped that her product, which formula and active ingredient have obtained granted patent no. IDP000053030, would obtain distribution permit. In her view, a spray product is expected to avoid contamination due to hand application, such as happening with most topical products.
In his inauguration speech, the Minister of Research, Technology, and Higher Education, Mohamad Nasir, hoped that this expo may be able to drive ore new and innovative research and technology-based startups by researchers in universities. "In its 4 thyear, there has been 900 startups, so in a short time Indonesia will be able to outgrow other nations through the creation of Indonesian inventions," said the Minister.
I3E was held by the Directorate for Innovation Reinforcement of the Ristekdikti Ministry as a means for showcasing the works of Indonesians funded through the CPPBT and PPBT programs (Mangestuti).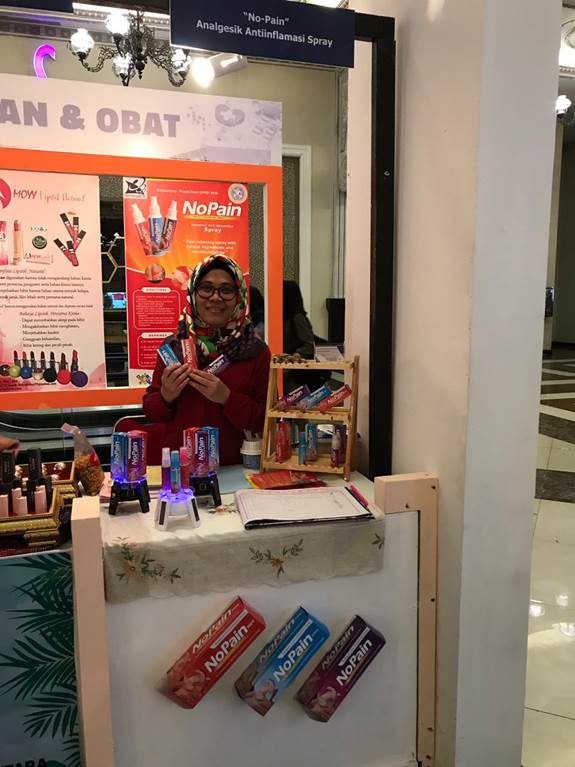 Dr.  Idha Kusumawati S.Si. Apt. M.Si. and " No Pain" product
(source: documentation)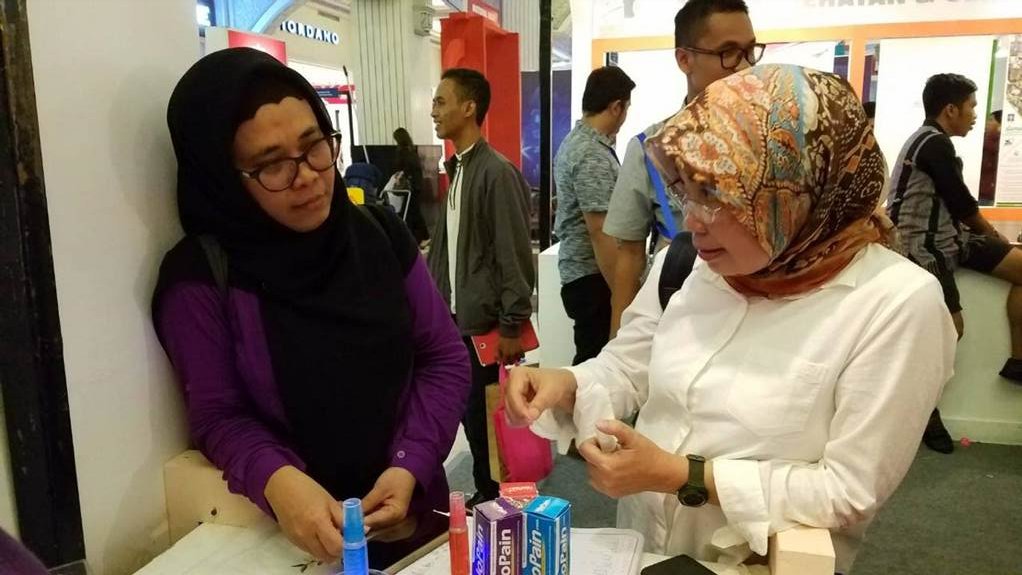 Ir. Retno Sumekar, M.Sc, Director of PPBT (wearing white) while visiting " No Pain" booth
(source: documentation)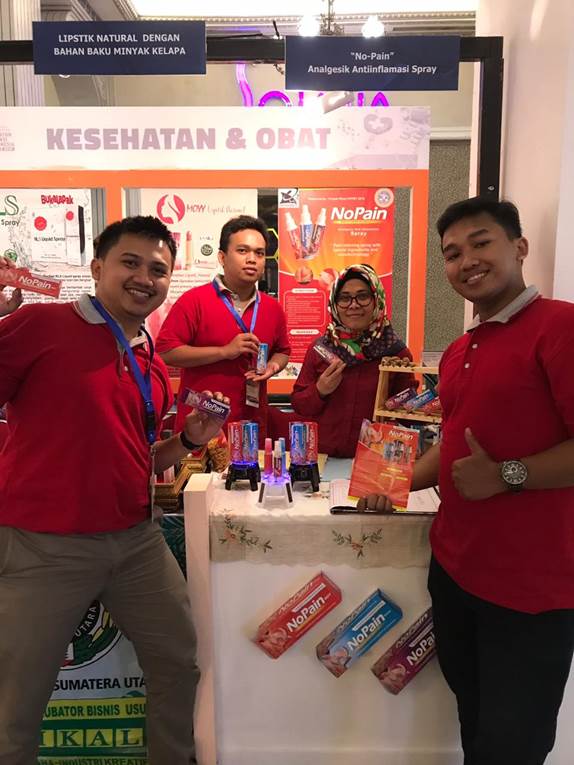 Dr.  Idha Kusumawati S.Si. Apt. M.Si. and undergraduate and graduate students of Faculty of Pharmacy Universitas Airlangga at the " No Pain" booth
(source: documentation)