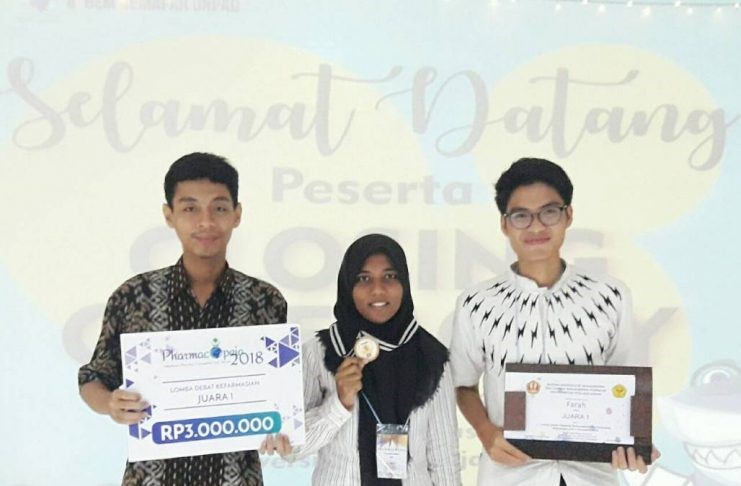 UNAIR NEWS– Creating work is the habit of young Airlangga students. Life will be stale without any work. With confidence and persistence, a dream will be achieved with achivement as its fruit. Today, students of the Faculty of Pharmacy were able to win the First Prize of Pharmacopeia National Pharmacy Debatein Padjadjaran University, Bandung, in the end of last year.
 " Alhamdulillah(Thank God) we can give the best for Universitas Airlangga through participating in various pharmacy competitions," said Farah, a Pharmacy student of batch year 2015, during an interview with UNAIR NEWSon Wednesday (7/11).
During the competition, she added, UNAIR sent a delegation consisting of Farah from batch year 2015, Dyoko Gumilang from batch year 2016, and Tri Wahyudi from batch year 2017. The group was able to obtain an achievement, competing against 6 teams from universities throughout Indonesia, including Gadjah Mada University, Bandung Institute of Technology, Padjadjaran University, Dr. Hamka Muhammadiyah University, and Surabaya University.
Furthermore, Farah told, the competition was divided into various processes consisting of several rounds. The first round was online essay writing. The next was the preliminary stage, which consisted of 2 chambers. The UNAIR team underwent 2 performances with a victory point system. Then, the UNAIR team faced ITB in a knockout fight, culminating with a final round against UGM.
 "We seized the opportunity to win both chambers and won first rank, passing into the semifinal round," she said.
Certainly, the UNAIR team faced some difficulties in preparing for this competition because of differences in batch years, which made it difficult for them to adjust their rehearsal schedule. They did their motion-building on train, supported by suggestions from their lecturer through WhatsApp.
 "During the debate competition, we faced some difficulties in case-building because the motions were very theoretical (based of clinical pharmacy) and we were demanded to be the government or opposition. However, we think that all problems have positive and negative sides so all opinions can be combined together. So, nothing is impossible," she stated.
Moreover, Farah and her team also competed several weeks before winning the debate competition. She and her team won the second prize of the UGM  National Pharmacious Pharmacy Debateand the second prize of the UWKM National Pharmacious Pharmacy Debate.
Talking about her and her team's win, Farah takes a strong stand in motivation to study, perseverance, and not being afraid of failure, in addition to a lot of practice because practice makes perfect.
"Pray, because it's not about your great dreams, but it's about God that makes everything easier," she concluded.
Source: UNAIR News
Writer: Rolista Dwi Oktavia
Editor: Nuri Hermawan
Translated by Antariksa Akhmadi with minor adjustments.