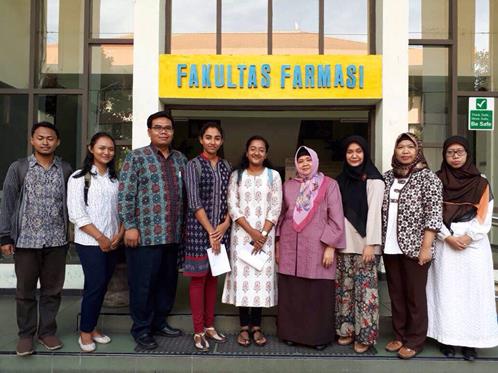 For two months, two foreign students, Deepthi Jacoband Roshni Ann Mathaifrom Manipal University India will be joining Student Exchange (June 2 nd- July 28 th, 2017)at the Faculty of Pharmacy Universitas Airlangga. They are happy to participate in the program and are very impressed by the hospitality of Indonesians, especially at the Faculty of Pharmacy Uniersitas Airlangga.
To greet these two exchange students, on Monday (05/06), the faculty organized Welcome Greeting and Sightseeing at the Faculty of Pharmacy Universitas Airlangga. The student exchange program has been continuously run by the faculty. Exchange students often come from Europe, but ocassionally there are students from places in Asia such as India.
With the two students' backgrounds as PharmD students, their internship focus will be at the Farmasi Airlangga Pharmacy and Pharmacy Installation at the Universitas Airlangga Hospital. Their activities are not only limited to pharmacy-related work, but there are also visit to UNAIR hospital, Tropical Diseases Center (TDC), and culture from Indonesia presented by the Faculty of Humanities UNAIR (FIB). They are able to discover Indonesian culture alongside students and teaching staffs from the Faculty of Humanities.