On 27 April 2017, the Faculty of Pharmacy Universitas Airlangga held a guest lecture in Ruang Kahuripan 301, Management Office Universitas Airlangga. The lecture, titled  Recent Advances in Neuroscience, was delivered by  Professor Minoru Narita, PhD. Among those attenting were:
Vice-Rector IV of UNAIR,  Junaidi  Khotib, S.Si, M.Kes., Ph.D.
Vice-Dean III of the Faculty of Pharmacy,  Dewi Melani Hariyadi, S.Si, M.Phil, Ph.D., Apt.
Lecturer of the Departmentof Clinical Pharmacy, Faculty of Pharmacy UNAIR,  Mahardian Rahmadi, S.Si.,M.Sc.,Ph.D  as moderator
Prof. Narita, who is also the Head of the Department of Pharmacology, School of Pharmacy and Pharmaceutical Sciences, Hoshi University also arrived with:
Ms. Michiko Narita - wife of Prof. Minoru Narita
Dr. Naoko Kuzumaki - Assistant Professor
Dr. Miho Kawata - Research Assistant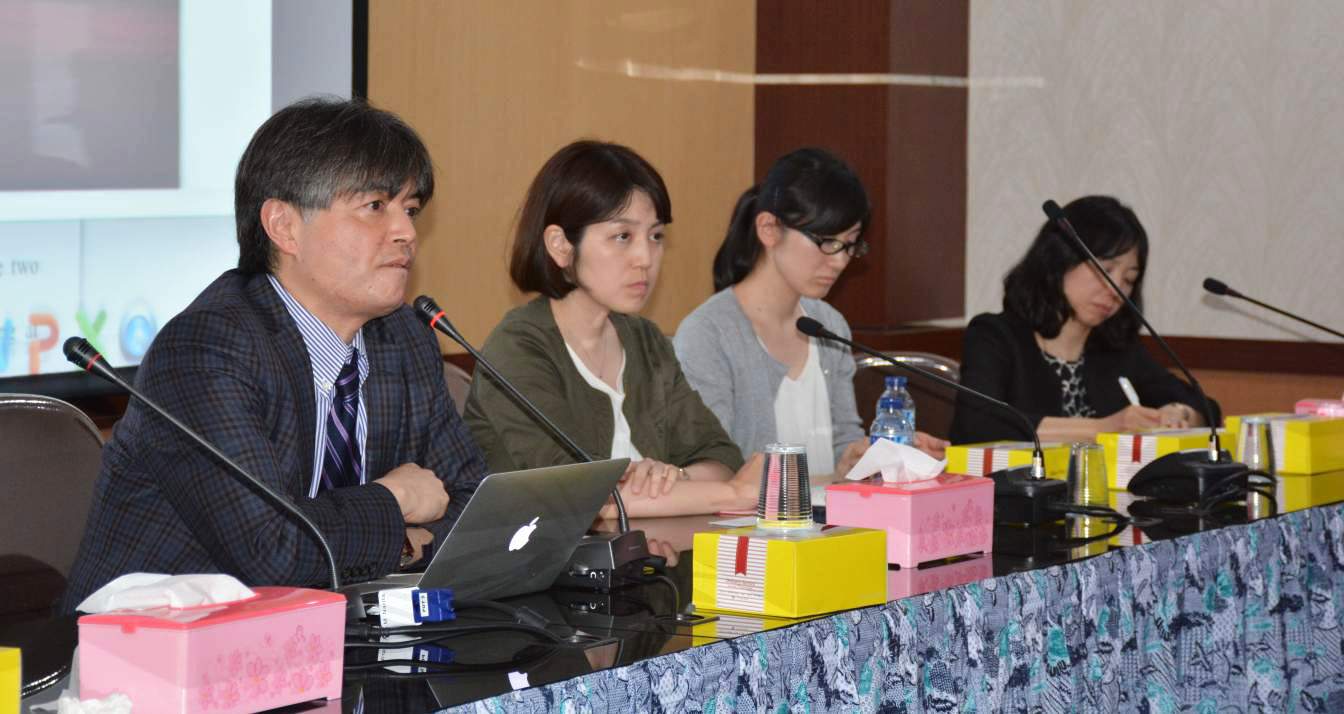 Left to right: Professor Minoru Narita, PhD - Dr. Naoko Kuzumaki -
Dr. Miho Kawata - Ms. Michiko Narita
In his opening remarks of the lecture, Vice-Rector IV told that Prof. Narita, who has a H-index of 41 in Scopus, was his supervisor during his PhD study in Japan. He also sai that the Department of Pharmacology draws a high number of interest in Japan, with 148 students currently enrolling the Hoshi University's department.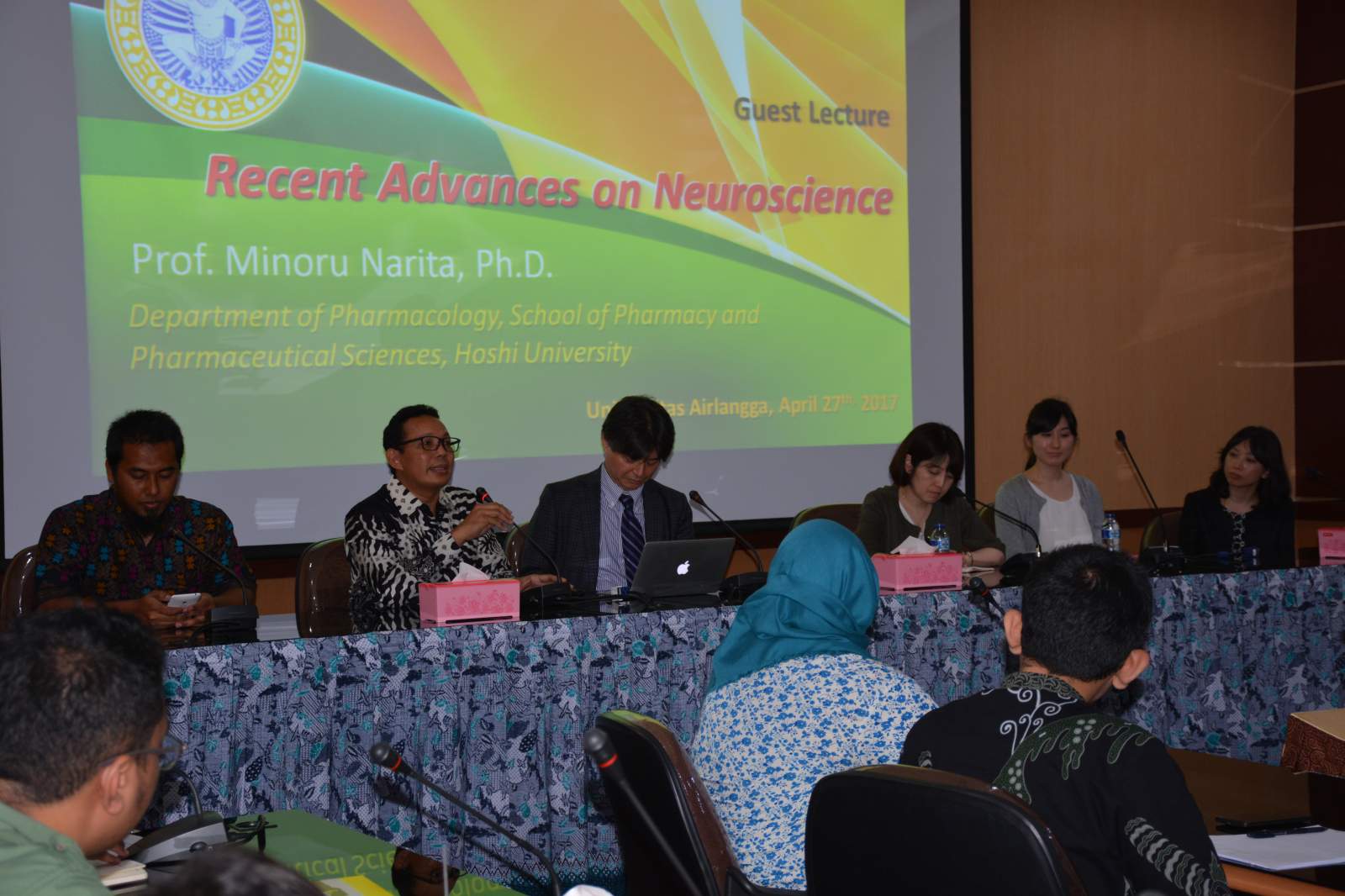 In his presentation, Prof. Narita showed the results of his studies that point to the correlation between pain and tumor/cancer growth, making the reduction of pain and stress to e important. The statement is responded enthusisastically by people in the audience, but due to time limits only three were allowed to ask questions. These are students from the Faculties of Pharmacy, Dentistry, and Science and Technology.

There was such a great enthusiasm of the audience to come to the lecture that seats needed to be added. Those attending include the Vice-Dean III, lecturers, and S2 and S3 students coming from faculties under the science cluster. 
The lecture was concluded with the awarding of gifts and a photo session.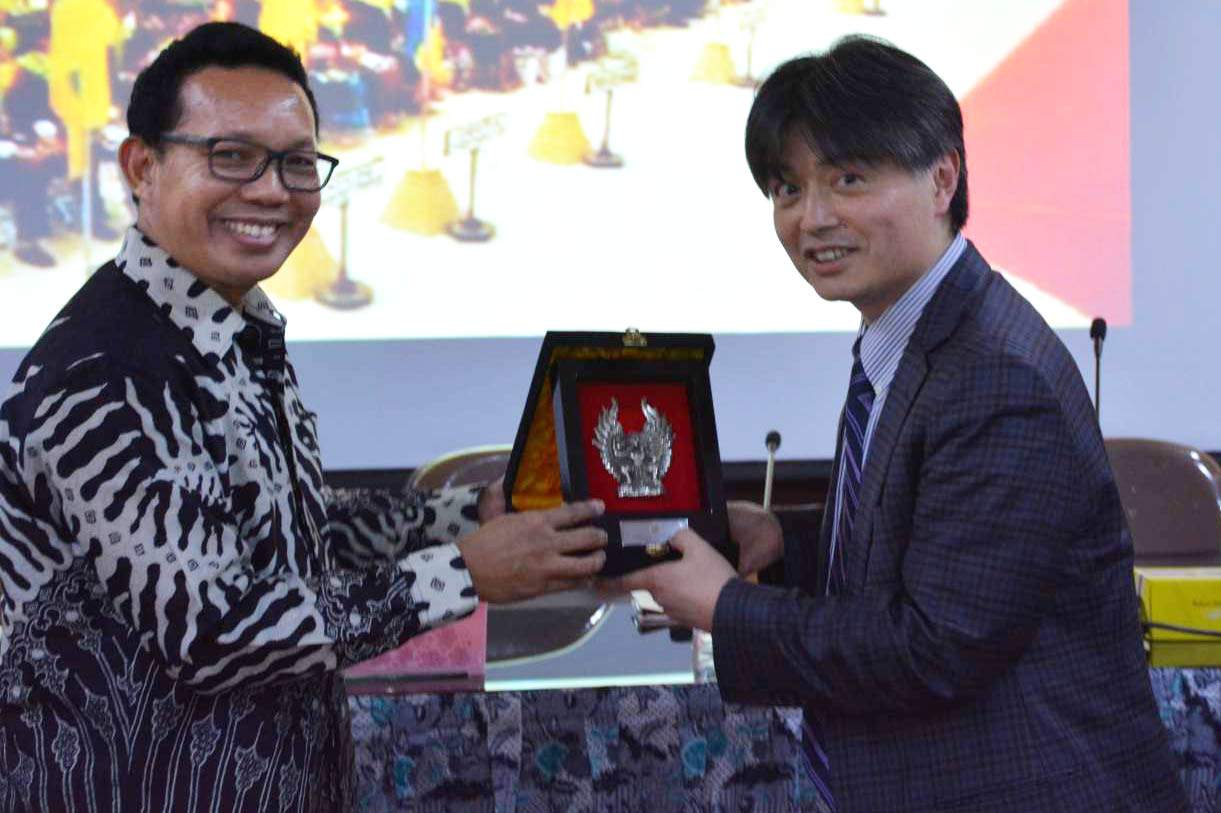 However, the audience's enthusiasm still continued that they had a discussion outside the room with Prof. Narita about the presentation and future partnership/study.