Visit to IACSS 2016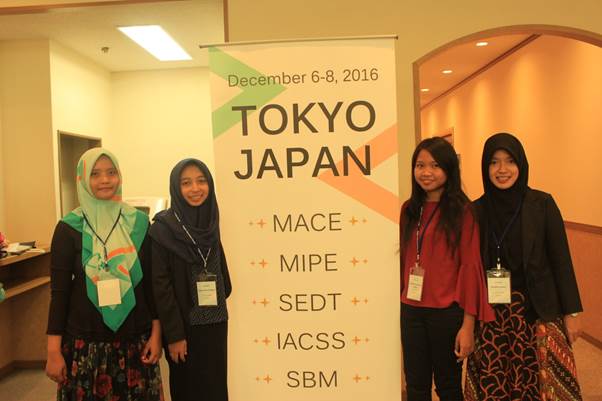 Japan is a country that draws the interest of so many people, including us. In early December, we had the opportunity to visit the cherry blossom country for one week. Through the International Academic Conference on Social Sciences (IACSS 2016), a conference held by the Higher Education Forum, we participated to discuss and share ideas, innovation, and research regarding global social science issues.
IACSS 2016 was held in the Bunka Kaikan building, part of the Sunshine City Complex located in the eastern part of Ikebukuro. The event was attended by hundreds of people including scholars, students, and researchers from many countries. The event was divided into several sessions and was held in a room. The event began with paper presentations, continued with questions and answers sessions, and ended with keynote speeches.
The event was held in three days, leaving several days for us to visit places in Japan. Among the numerous interesting destinations, we chose to visit the Meiji Shrine and SensÅ-ji. Although Japan is a technological giant whose products have prevailed around the world, it is still a country that preserved its tradition and culture well. For instance, in those two places, we can still see Japanese women wearing kimono.
Even though we only visited Japan for several days, our first visit left many unforgettable memories that we will treasure in the future. We will remember even the simplest things like the capsule hotel we stayed in where roommates change every day, seeing people of Tokyo in rush hours, and riding subways connecting central Tokyo districts.
Japan is an opposite image of Indonesia. No standstills, order everywhere, cleanliness, and outstanding discipline. This trip is not only about how proud we are representing our alma mater, but also how we learn so many things from Japan: their never-ending effort, the tolerance between the Japanese and foreign scholars, respect, politeness, and a helping hand. We look at ourselves as Indonesians and compare with these attitudes.
Thank you, Japan, for this beautiful experience. May we meet again someday.
Name of Activity
International Academic Conference on Social Sciences (IACSS 2016)
Place
Sunshine City, Bunka Kaikan, Lantai 7, 3-1 Higashi-Ikebukuro, Toshima-ku, Tokyo, Jepang.
Time
6-8 Desember 2016
| | |
| --- | --- |
| Name | Std. Number |
| Jeany Ratna Purwatri | 051311133210 |
| Rebhika Lusiana | 051411131012 |
| Rendha Kusumaning Kristiwi | 051411131024 |
| Alifia Sakinah | 051411131112 |