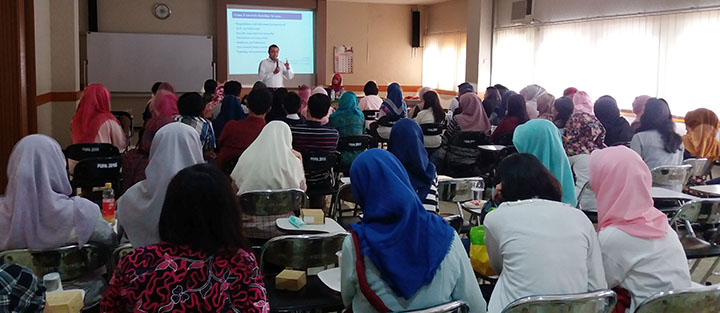 On Saturday (28/5), the Faculty of Pharmacy held a guest lecture. The event was a cooperation by the Faculty Administration with the Student Executive Board of the Faculty of Pharmacy, Department of the Interior who handles student affairs.
The lecture, dubbed "Sharing with Alumni", with Miky Nurhariadi, S.Farm., Apt. (alumni of FF UNAIR, class of 2006) as speaker, was attended by the dean, vice-deans, lecturers, and students. The students attending the event were mostly in their senior year.
The event is held to provide wider insight outside of class activities, give inspiration to students, and also prepares the students to be ready for the work life. The event is planned to be held routinely by inviting alumni as speakers. In the future, "Sharing with Alumni" is expected to be the students' medium to expand their knowledge about the working life.
"If you are more aware of problems, you can provide more solutions to them," explained Miky during her lecture. The awareness for problems in the workplace is highly needed. This is necessary so that problems can be solved as soon as possible. However, each person has different levels of awareness. Only those with a high sense of awareness will endure.
There are elements of the Daily Management System (DMS), namely 1) structured management, 2) active leadership, and 3) fact-based management. Miky explained, "Write what you do, do what you write." Often, conveying reports is not given enough attention. All things that are reported should be strictly based on the facts on the ground, not opinions.
Miky also gives the basics of good coaching. A good superior should place him or herself according to the situation. In addition, the superior should understand every word of the Labor Law No. 13 2003 and company rules so that there are no differences in perception. This is a key point that needs to be considered by a future leader.
This guest lecture gives many insights and benefits to students. Not only for the students, but the Faculty Administration as the host of the lecture is also motivated to enhance its graduate competences through curriculum adjustments. In the future, the faculty expects to produce more excellent graduates.