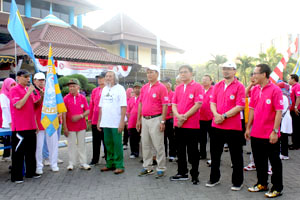 After attending the Ceremony of the 70 thAnniversary of Indonesian Independence at the C Campus, Universitas Airlangga, the students, academic staff, and administrative staff of the Faculty of Pharmacy immediately headed back to the Faculty Building at the Dharmawangsa B Campus. On the same day with the Independence Day, the Faculty also celebrated its 52th Dies Natalis. The tents, stage, arranged chairs and receptionists along with the accompaniment of national songs awaited the arrival of their guests.
Among those attendinig were the former Rector of UNAIR, Prof. Fasich, MS., Apt., former Deans, Prof. Sutarjadi, Prof. Sumadi, Prof. Purwanto, Prof. Noer Choliez Zaini, Dean, Vice-Deans, active and retiring academic and administrative staff, and also students from various class years. The entire academic community of the faculty joined together for the advancement of Apothecary Education in Universitas Airlangga.

Upholding the theme "The enhancement of Apothecary Education Quality in Anticipation to Competency Certification for Global Competitiveness", the Faculty strives to produce competent and excellent graduates in its field to face mounting challenges and competition. The Dies Natalis celebration were held twice, first at 17 August in the B campus and 23 August in the Management Building C Campus.
The ceremony was marked with tumpeng-making competition, awards for academic and administrative staff, charity for retiring staff, awarding of Satyalancana Karya Satya for several lecturers, and spontaneous performances from the five departments which drew laughter. The event ended with the feasting on the tumpengcompetition products.
On the following week (23/8/2015), the C campus looked festive. As far as the eyes could see, the color pink was visible since all of the people participating in the Dies Natalis celebration were wearing pink shirts. They were enjoying joint gymnastics and green walk. Attending the event were Prof. Dr. Muhammad Nasih, the Rector-Elect of UNAIR, along with Prof. Sutarjadi, Prof. Bambang Prajogo, and the head of committee of the 52th Dies Natalis as well as the Head of the Pharmaceutical Pharmacy Department, marcellio Rudyanto, M.Si., Apt., PhD. Together, they flew the flag marking the occasion.