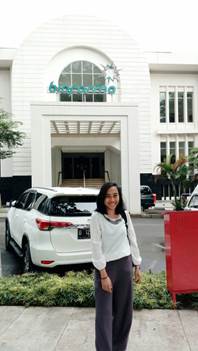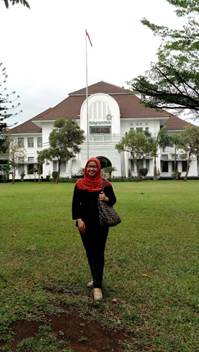 Kartika Dewi Pratiwi and Saras Damayanti in front of PT. Bio Farma Building
Spending holiday with internship activities became the main occupations for Saras Damayanti (20) and Kartika Dewi Pratiwi (20). They looked for new experiences by registering for internship in PT. Bio Farma, Bandung. PT. Bio Farma is the only vaccine factory in Southeast Asia that has exported its products to 130 countries. This state-owned enterprise explained that they have been welcoming Vocational High School and college students alike to participate in internships in their company. Saras and Kartika were stationed in Pertusis Vaccine Production and Media Production Divisions, in line with their pharmaceutical specializations.
"We enjoyed the opportunity to observe the processes and steps performed in a sterile preparation industry. That opportunity provided us with valuable knowledge for us to be ready to run production systems in such industry since in this regard we have obtained some experiences in observing sterile preparation production directly. Before the internship, it was most important for us to learn about the Standard Operating Procedure (SOP) of the company. This is an important thing to do to give ourselves understanding on how we were supposed to behave and how we were supposed to work according to the set procedures before undertaking the internship itself. The SOP also provided information for us regarding the knowledge we haven't yet obtained during our study, from handwashing, gowning, classification of cleanrooms, deviations, change treatment, and more. PT. Bio Farma implements Good Manufacturing Practices (GMP) in their production activities, making us able to learn the implementation of GMP in everyday context. For that reason, it provides beneficial background knowledge for us in terms of work experience, as well as courses in the next semester," Saras and Kartika told.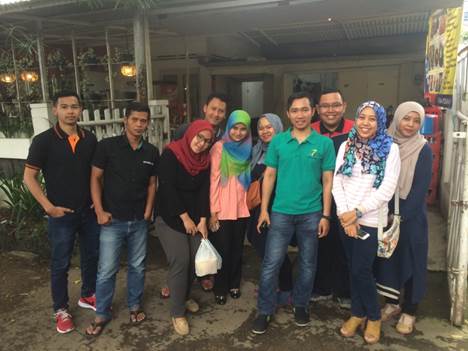 This kind of activity should be encouraged for students so that they have a strong will and high motivation to learn and seek experiences. "Before we were selected for the internship, we were required to undergo health tests. This is in order to prove that we did not have medical conditions that endanger ourselves or our workplace. During the internship, we were also allowed to be directly involved in the implementation of activities related to sterile preparation production, but still under supervision according to the rules. This is what impressed us. The head of pertussis vaccine production division, Mrs. Rochani Sri H.A., ST., and the head of the media production division, Mr. Irpan Darfian, S.Si., Apt., were responsible for all our activities in PT. Bio Farma. Besides being warmly welcomed by the employees, we also obtained the same facilities with the existing employees. We were very pleased and impressed because in addition to obtaining much knowledge, we also gained new friends from the various professions in the company. Moreover, the most important thing for us and all students to remember is that the workplace is a very wide field. For that reason, we think it is best for students to enrich their experiences by interacting with various professions and all elements of the society because whatever they haven't obtained in college, they will learn in the workplace. What you are experiencing in the workplace is completely different with your experiences in college. Don't be afraid to search new opportunities, since activities like internships can give positive effect for us students," said Kartika and Saras.
That was the brief story from Kartika and Saras during their internship in PT. Bio Farma, Bandung from 30 January to 24 February 2017. Their activities should be an example and inspiration to motivate all fellow students of the Faculty of Pharmacy Universitas Airlangga to seek more knowledge and experience.