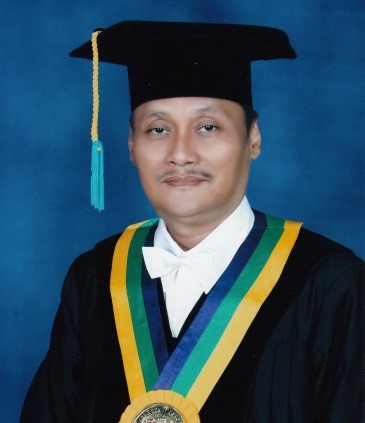 | | |
| --- | --- |
| Tahun | Jenjang Pendidikan |
| 1984 | S1 Sarjana Pendidikan Apoteker Fakultas Farmasi Universitas Airlangga, Surabaya, Indonesia |
| 1985 | Profesi Apoteker Fakultas Farmasi Universitas Airlangga, Surabaya, Indoneisa |
| 1990 | Magister Ilmu Farmasi Program Pasca Sarjana ITB, Indonesia |
| 2001 | Doctor MIPA Program Pasca Sarjana Universitas Airlangga, Surbaya, Indonesia |
Courses
• Pelatihan Asesor Lembaga Akreditasi Mandiri Pendidikan Tinggi Kesehatan Indonesia (LAM-PTKes), Jakarta, Juli 2017
• Workshop Kefarmasian: Peran Apoteker Dalam Penyalahgunaan Obat dan Penggunaan Obat Yang Salah (Surabaya, November 2017)
• Ge Day: Proteomic (Protein Research Workflow Seminar and Workshop (Surabaya, April 2013).
• Internal Quality Audit Training of ISO 9001: 2008, Fakultas Farmasi Unair, Surabaya, August 2009.
• WHO Workshop on Scientific Writing, held in Airlangga University School of Medicine, Surabaya, February 2008.
• Workshop on Research Proposal Writing in Reproductive Health, Reproductive Health Research Centre Airlangga University in Collaboration with BKKBN and WHO. Surabaya, July 1999.
• Kursus Singkat Mikrobiologi Molekuler I, Diagnosis Molekuler: Penerapan Tehnik Polymerase Chain Reaction (PCR) untuk Diagnosis Penyakit Infeksi. Bandung, December 1996.
• Kursus Pemantauan Pencemaran Laut, Pusat Penelitian Kesehatan Lingkungan Lembaga Penelitian Universitas Airlangga, Lembaga Ilmu Pengetahuan Indonesia dan UNESCO/UNDP, Surabaya, April 1992.
Research Interests
• Pharmaceutical Analysis
• Bioanalysis
• Molecular Biology
Selected Publications
• Sudjarwo, Muhammad Nur Alfi and Febri Annuryanti, 2019, Validation and Development of TLC-Densitometry Method for Standardization of Soursop Leaf Extract (Annona Muricata Linn) with Quercetin. International Journal of Pharmaceutical Sciences and Research. Vol. 10(2):686-691. E-ISSN: 0975-8232; P-ISSN: 2320-5148. DOI: 10.13040.IJPSR.0975-8232.10(2)686-691. DOI link: http://dx.doi.org/10.13040/IJPSR.0975-8232.10(2).686-91 .
• Sudjarwo, G. Fransiska, A. Prawita, 2019, Development and Validation of Visible-Spectrophotometric method for the Determination of Total D-glucose and D-mannose levels Calculated as Glucomannan in Porang Powder (Amorphophallus oncophyllus) and Konjac Powder (Amorphophallus konjac). International Journal of Green Pharmacy. Jan-Mar. 13(1):65-71. 
• Wahiduddin, Agung Pranoto, Sudjarwo, 2019, Kendali glikemik pada pasien diabetes mellitus tipe 2 dengan dan tanpa tuberculosis paru (Jurnal Media Kesehatan Masyarakat Indonesia. Vol. 15 No.1 Maret). pISSN 0216-2482; eISSN 2356-4067.
• Sudjarwo, Faykowati E, Wulandari W.P., Prawita A, 2018, The Effectiveness of Indonesian Traditional Therapy from Blimbing Wuluh Leaf Extract in Reducing Uric Acid in Mus Musculus. International Journal of Pharmaceutical Research&Allied Sciences, 7(3):42-48. ISSN:2277-3657; CODEN (USA): IJPRPM.
• Sukarjati, Susie Amilah, Sudjarwo, 2018, Toxicity of 32.2 kDa MW Escherichia coli Pili Adhesin Isolated from Infertile Male Semen in Reproductive System. Folia Medica Indonesiana. Vol.54. No. 2. June:146-154.
• Sudjarwo, 2017, Optimization and Validation of Visible-Spectrophotometry Method for Determination Ascorbic Acud in Jeruk Bali (Citrus Maxima) Fruit from Indonesia. International Journal of Pharmaceutical Quality Assurance. 8(2): 44-48. ISSN: 0975 9506.
• Zainal Abidin, Marcellino Rudyanto, Sudjarwo, 2015, Isolasi dan Karakterisasi Agarosa dari Rumput Laut Gracilaria verrucosa. Jurnal Ilmu Kefarmasian Indonesia. Vol. 13. No. 1. April. 69-75. ISSN 1693-1831.
• Sudjarwo, Widiastuti H, Primaharinastiti P, Prihatingtyas S, 2014, Toxicity test from Gloriosa Superba L Leaves Extract in Rats (Rattus Novegicus). International Journal of Pharmacy and Pharmaceutical Sciences. Vol.6. Issue 5. ISSN-0975-1491.


Contact
Faculty of Pharmacy, Universitas Airlangga
E-mail  sudjarwo0958@gmail.com
E-mail Instansi  sudjarwo@ff.unair.ac.id