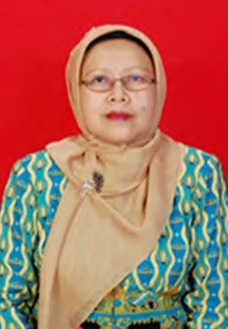 | | |
| --- | --- |
| Tahun | Jenjang Pendidikan |
| 1983 | Bachelor of Science, Dra, Department of Pharmaceutics, Faculty of Pharmacy, Universitas Airlangga, Indonesia |
| 1984 | Apothecary, Apt, Department of Pharmaceutics, Faculty of Pharmacy, Universitas Airlangga, Indonesia |
| 1995 | Master of Sciences, MSi, Program Pasca Sarjana Universitas Airlangga, , Indonesia |
| 2014-now | Candidate Doctor – Faculty of Pharmacy, Universitas Airlangga, Indonesia. |
Courses
Pharmaceutical Liquid Dosage Forms, Pharmaceutical Semisolid Dosage Forms, Nutrition/Nutraceuticals, Cosmetics, Drug Delivery System, Advanced Delivery System, Targeted Delivery System.
Research Interests
Investigations of microspheres and nanospheres using natural and synthetic polymers
Drug, protein and probiotics delivery systems for oral, and topical applications
Selected Publications
Tutiek Purwanti, Dewi Melani Hariyadi, 2014, Effectt of sodium alginate concentration on characteristic,, viability, and antibacterial activity of probiotic-alginate microparticles,World Journal off Pharmaceutical Sciences ISSN (Print): 2321-3310 ;  ISSN (Online): 2321-3086
Sugiyartono, Tutiek Purwanti, Isnaeni, Dhenok Reso Fenda Asega, 2014, Influence of Emcompress Concentration on the Physical Properties of Tablet containing Lactobacillus spp. and Guava Leaves Extract,Asian J. Pharm. Res.  2014; Vol. 4: Issue 4, Pg 189-194
Dewi Melani Hariyadi, Esti Hendradi, Tutiek Purwanti, Farah Diba Genie Permana Fadil, Chandra Nourmasari Ramadani, 2014, Effect of Crosslinking Agent and Polymer on The Characteristics of Ovalbumin-Loaded Alginate Microspheres, International Journal of Pharmacy and Pharmaceutical Sciences, ISSN 0975-1491, 6(4), 469-474.
Tutiek Purwanti, Esti Hendradi, Noverika A. Putri, Nurtya J.Devi, Physical Characteristics and Penetration of Diclofenac Sodium Niosomal System Using Span 20 and Span 60. The 1 stInternational Conference on Pharmaceutics & Pharmaceutical Sciences. Surabaya, November, 14-15 th2014
Dewi Melani Hariyadi, Tutiek Purwanti, Idha Kusumawati, Rahma Nita Nirmala, Halib Masbubi Cipta Maindra, 2015, Physical Characterization and In Vivo Study of Ovalbumin Encapsulated in Alginate Microspheres, International Journal of Drug Delivery Technology, ISSN:0975-4415 ; 2015;5(2); 48-53.
Dewi Melani Hariyadi, Tutiek Purwanti, Destia Wardani, 2016, Stability of Freeze-Dried Ovalbumin-Alginate Microspheres with Different Lyoprotectants, Research Journal of Pharmaceutical Technology, ISSN:0974-360X ; 2016; 9(1); 119-125.
Tutiek Purwanti, Dewi Melani Hariyadi, Regia Nada Asshava, 2016, Effect of Combination Natrium Alginat-Gelatin 1% : 2% in Characteristict and Antimicrobial Activity of Probiotic Microsphere Lactobacillus acidophilus.International Conference on Medicine and Health Sciences,University of Jember, Indonesia. August 31 th-September 1 st, 2016.
Contact
Dra. Tutiek Purwanti, MSi,, Apt.
Faculty of Pharmacy, Universitas Airlangga
Jl. Dharmawangsa Dalam Surabaya 60286
Ph. +62 31 5033710
Fax. +62 31 5020514
E-mail  tutiek_purwanti@yahoo.com
E-mail instansi  tutiek-p@ff.unair.ac.id