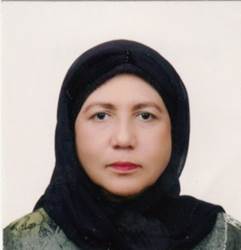 | | |
| --- | --- |
| Tahun | Jenjang Pendidikan |
| 1979 | Bachelor of Science, Faculty of Pharmacy, Airlangga University. |
| 1990 | Magister Science, Faculty of Pharmacy, Airlangga University, Indonesia. |
| 2008 | Doctoral Degree, Mathematical & Natural Science, Airlangga University, Indonesia. |
Courses
General chemistry, Analytical chemistry, Pharmaceutical chemistry, Chromatography, Microbiology and Microbial Biotechnology, Analytical Microbiology, Food Safety and Quality.
RESEARCH INTERESTS
Pharmaceutical Chemistry & Pharmaceutical Microbiology
Endophytic Fungi and their metabolite
Characterization of natural products with regard to biological activity in pharmacologically relevant assay systems
Current research of our group explores endophytic fungi isolated from Indonesian medicinal plants and marine sponges for especially antimicrobial activities and other bioactive agents. Biological active substance derived from marine organism and their characterization also interesting to our group.
SELECTED PUBLICATIONS
Noor Erma Nasution Sugijanto, Diesel, Noor CZ, R. Ebel, Gunawan I, 2009. Chemical Constituents of the Endophytic fungus Lecythophorasp isolated form Alyxia reinwardtii, Natural Product Communications, Vol.4 No.11, 1485-1488,
Noor Erma SN, A. Diesel, M. Rateb, A. Pretsch, S. Gogalic, Noor C, R. Ebel, Gunawan I, 2011. Lecythomycin, a new macrolactone glycoside from Endophytic Fungus Lecythophora Natural Product CommunicationsVol. 6, No. 5, 677-678, Mei 2011.
Noor Erma N.S, Febrina, Nabila AlBatati, Hermanto, Daya Antimikroba Ekstrak Lecythophorasp. endofit yang diisolasi dari Alyxia reinwardtiiBerkala Penelitian Hayati, ISSN 0852-6834, Vol 15, No.1, 35-42 (Nasional Terakreditasi).
Sugijanto, Suprihatin, Noor Erma N , 2010.Analisis Pestisida Karbaril dengan metode KLT-Densitometri dalam matriks Kedelai dan validasi metodenya. Berkala Penelitian Hayati, ISSN 0852-6834, Vol 15, No.2, 159-162, (Nasional Terakreditasi)
Noor Erma N.S, Eny, Noor Cholies, 2011. Aktivitas  antimikroba Ekstrak jamur endofit Kabatiela caulivora var B yang diisolasi dari Alyxia reinwardtii.Jurnal Ilmu Kefarmasian Indonesia, ISSN 1693-1831. Vol 9, No 1,hal  31-34, April 2011 (Nasional Terakreditasi).
Dwi Hartanti, Diesel, M. Rateb, A.,  Noor Erma S, R. Ebel, Gunawan I, 2014. Isolation of Pandangolide 1 from Cladosporium oxysporum, an Endophyte of the Terrestrial Plant Alyxia reinwardtii.Makara  Journal of Science, Vol.18, No.4, 123-126. Des 2014 (Nasional terakreditasi).
Dwi Hartanti, Juli Supriyanto, Noor Erma N. Sugijanto, 2016. Antimicrobial activity of fractions of ethyl acetate extract of Cladosporium oxysporum, an Endophytic fungus derived from Alyxia reinwardtii,Jurnal Kefarmasian Indonesia, Vol 6, No. 1, 1-7. Feb. 2016. (Nasional terakreditasi).
Contact
Prof. Dr. Noor Erma Nasution Apt,MS
Faculty of Pharmacy, Universitas Airlangga 
Dharmawangsa Dalam Surabaya 60286
Ph +62315033710
Fax +62315020514
E-mail  ermasugijanto@yahoo.co.id
E-mail instansi  noor-e-n@ff.unair.ac.id