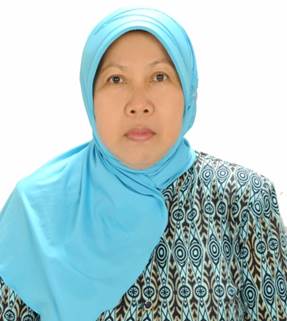 | | |
| --- | --- |
| Tahun | Jenjang Pendidikan |
| 1984 | Bachelor of Science, Dra, Department of Pharmaceutics, Faculty of Pharmacy, Universitas Airlangga, Indonesia |
| 1985 | Apothecary, Apt, Department of Pharmaceutics, Faculty of Pharmacy, Universitas Airlangga, Indonesia |
| 1995 | Magister Science of Faculty of Pharmacy, Gadjah Mada University- Indonesia |
| 2004 | Doctor of Philosophy, PhD, Pharmaceutics, School of Pharmacy, Hoshi University, Tokyo-Japan |
Courses
Physical Pharmacy, Pharmaceutical Liquid Dosage Forms, Pharmaceutical Semisolid Dosage Forms, Radiopharmaceuticals, Drug Delivery System, Nutrition (Under Graduate) Nano Technology Advanced Delivery System, Targeted Delivery System, Transdermal Delivery, System, Product Biopharmaceutics, Advanced Biopharmaceutics (Magister), Nano Medicine, Drug Targeting, Physical Pharmacy (Doctoral Degree) .
Research Interests
Transdermal Formulation
Nanotechnology Formulation
Drug, protein and vaccine delivery systems for pulmonary and topical applications
Selected Publications
Esti Hendradi, Obata, Y., Takayama, K., Nagai, T, 2003. Effect of Bile Salts-Lecithin Mixed Micelles on the Skin Permeation of Diclofenac in rats. STP Pharma Sciences.  13, 247-251
Esti Hendradi, Obata., Y., Isowa, K., Nagai, T, Takayama,K., 2003. Effect of Mixed Micelle Formulations including Terpenes on the Transdermal Delivery of Diclofenac. Biol. Pharm. Bull. Vol.26, 1739-1743
Agnes Nuniek Winantari, Esti Hendradi, Bambang Wijaya, 2008. Daya Mucoadhesif dan Pelepasan Obat in Vitro Tablet Vaginal Mucoadhesif Metronidazol Menggunakan Polimer Carbopol ®940 . Artocorpus, Vol. 8 No.2, 2008.
Mangestuti,A., Esti Hendradi, Budiastuti, 2009. Identification of Components of Essential oil from Cananga odoratawhich Penetrated into the Rat Skin (Wistar Strain) in the Practice of Timung(Development of Timungas Alternative Healing) Journal of Thai Traditional & Alternative Medicine, 7 No. 2 May-August (Supplement), 2009.
Esti Hendradi, Isnaeni, Pujianti,E, Fridayanti, 2011. Optimasi Sediaan Transdermal Patch Natrium Diklofenak Tipe Matriks. Jurnal Farmasi Indonesia Vol. 5 No. 4, 2011
Dewi Melani Hariyadi, Esti Hendradi, Tutiek Purwanti, Farah Diba Genie Permana Fadil, Chandra Nourmasari Ramadani, 2014, Effect of Crosslinking Agent and Polymer on The Characteristics of Ovalbumin-Loaded Alginate Microspheres, International Journal of Pharmacy and Pharmaceutical Sciences, ISSN 0975-1491, 6(4), 469-474.
Tristiana Erawati, Esti Hendradi, Widji Soeratri Praformulation study of p-methoxycinnamic Acid (PMCA) Nanoemulsion using Vegetable Oils (Soybean Oil, Corn Oil, VCO). International Journal of Pharmacy and Pharmaceutical Sciences. ISSN 0975-1491, Vol 6 (2), 2014..
Dewi Melani Hariyadi, Esti Hendradi, Idha Kusumawati, Halib Masbubi Cipta Maindra, Fauziah Azzahra, 2016, Evaluation of The Antibody Response And Uptake of Ca-Alginate Microspheres Containing Model Antigen After Oral Immunization, International Journal of Pharmaceutical and Clinical Research, ISSN:0975-1556 ; 2016; 8(2); 151-157.
Karina Citra Rani, Riesta Primaharinastiti, Esti Hendradi, 2016. Preparation And Evaluation of Ciprofloxacin Implant Using Bovine Hydroxyapatite-Chitosan Composite and Glutaraldehyde for Osteomyelitis International Journal of Pharmacy and Pharmaceutical Sciences. ISSN 0975-1491 Vol 8 No 1, 2016.
Esti Hendradi, Muhammad Yuwono Efek Perbandingan Surfaktan Kosurfaktan (Butanol) Terhadap Karakteristik dan Efisiensi Penjebakan Ovalbumin dalam Mikroemulsi W/O. Jurnal Farmasi Indonesia 8 No. 1 Januari 2016
PEMBICARA:
Pembicara pada Simposium PERDOSKI dengan Tema Simposium Healthy and Beautiful Skin (Cosmetic Dermatology Basic Sciences to Recent Management). Dengan Judul: Nano Technology in Cosmetics.14-15 Mei 2011 di Hotel Sheraton, Surabaya. 
Pembicara pada Seminar and Workshop in Aesthetic Medicine dengan Tema Beauty and arts in aesthetic medicine. Dengan Judul: Oral Placenta and Topical Collagen and Stem cell Controversies : Does it Really Work? 29 November- 1 Desember 2013 di Convention Center (JCC), Jakarta.
Contact
Dra. Esti Hendradi,Apt.,MSi.,Ph.D.
Faculty of Pharmacy, Universitas Airlangga
Jl. Dharmawangsa Dalam Surabaya 60286
Ph.+62 31 5033710
Fax. +62 31 5020514
E-mail: estihendradi@yahoo.com
E-mail instansi  esti-h@ff.unair.ac.id