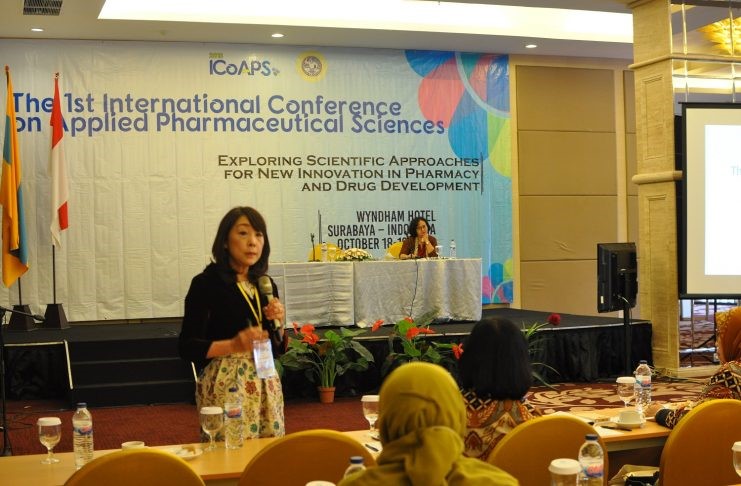 UNAIR NEWS – Faculty of Pharmacy (FF)  Universitas Airlangga as one of the leading institutions in Indonesian pharmacy held the International Conference on Applied Pharmaceutics Sciences  (ICoAPS) 2018. The conference was situated at Shinta Ballroom, Wyndham Hotel on Thursday-Friday, October 18-19.
ICoAPS 2018 was a scientific forum of Faculty of Pharmacy UNAIR to facilitate practitioners and academics engaged in drug development and pharmaceutical service management. This activity was carried out to integrate the knowledge and technology achieved for utilization in the health sector globally.
Through this activity, academics, students, researchers, practitioners, and other community members gain knowledge and experience through oral presentations and scientific posters on natural products, analytical and medicinal chemistry, drug delivery and pharmaceutical technology, bioequivalence and biosimilar, community and clinical pharmacy, and drug regulatory affairs.
As a result of this activity, selected papers will be published in Scopus-indexed proceedings. This is done to help enhance the reputation of UNAIR as an academic institution at the national and international levels.
"So, through this activity, new ideas or thoughts related to treatment technology are expected to emerge, especially in FF UNAIR. And there are parties who can be invited to perform joint research, both nationally and internationally," said the head of ICoAPS 2018 committee, Andang Miatmoko., Ph.D Apt.
During the occasion, Prof. Mariko Takeda from Kobe Gakuin University gave a lecture on Drug Delivery and Pharmaceutical Technology. She explained the use of peptide-penetrating cells as an effort to improve the safety of cosmetics and pigments in the skin.
"It depends on what cosmetics you want to make, and the use of cell-penetrating peptide has not been developed in Indonesia," said Prof. Mariko.
What is expected after this activity is the development of pharmaceutical technology in accordance with the latest science and technology and the improvement of pharmacist professional education to support global needs. (*)
Source: UNAIR News
Author: Fariz Ilham Rosyidi
Editor: Binti Q. Masruroh
Article was lightly edited for readability.